Kindle Fire HDX 'Significantly Outperforms' iPad Air In Display Shootout
While the iPad's Retina display has traditionally been considered the finest tablet display on the market, that's no longer the case thanks to Amazon. Its new high-end Kindle Fire HDX has the best tablet display ever tested by DisplayMate expert Dr. Raymond Soneira, "significantly outperforming" the iPad Air's in several key areas.
The iPad Air's display is very similar to that of its predecessor, but Apple has made a number of improvements. The 9.7-inch panel features the same 2048×1536 resolution with 264 pixels-per-inch, but peak brightness has increased by 7%, reflectivity has fallen 23%, and its "contrast rating" has climbed 32%.
But despite those improvements, the iPad Air's Retina display still isn't as good as the 8.9-inch display featured in the new Kindle Fire HDX. That doesn't just boast a higher pixel density, with a 2560×1600 resolution serving 339 pixels-per-inch, but it also outperforms the iPad when it comes to brightness, contrast rating, contrast ratio, power efficiency, and more.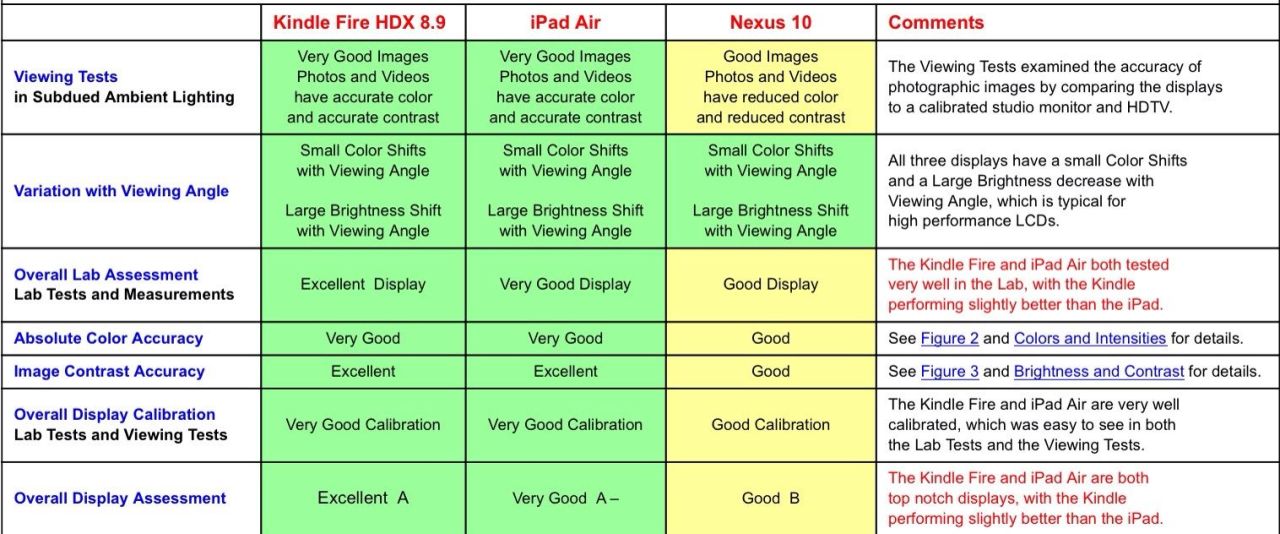 As a result, the Kindle Fire HDX "has leapfrogged into the best performing Tablet display that we have ever tested, significantly out-performing the iPad Air in Brightness, Screen Reflectance, and high ambient light contrast, plus a first place finish in the very challenging category of Absolute Color Accuracy," Soneria wrote.
"None of these display performance accomplishments happened accidentally," he added, noting that the Kindle Fire HDX has both excellent hardware and excellent factory calibration.
This doesn't mean the iPad Air's display is bad, of course.
Both the Kindle Fire HDX and the iPad Air "deliver top notch picture quality, absolute color accuracy, and accurate image contrast that is not only much better than any other Tablet, they are also much better than most HDTVs, laptops, and monitors."
Soneria added that it would only take some minor calibration tweaks to turn both displays into studio reference monitors.
The Google Nexus 10, on the other hand, which was also included in the shootout, came a very distant third, and failed to come anywhere close to the Kindle Fire HDX or the iPad Air in almost every area. Of course, the Nexus 10 is getting fairly old now, and we expect to see a new one with a better display in the coming months.