Samsung Galaxy Tab 3 7.0 To Launch On Sprint Starting October 11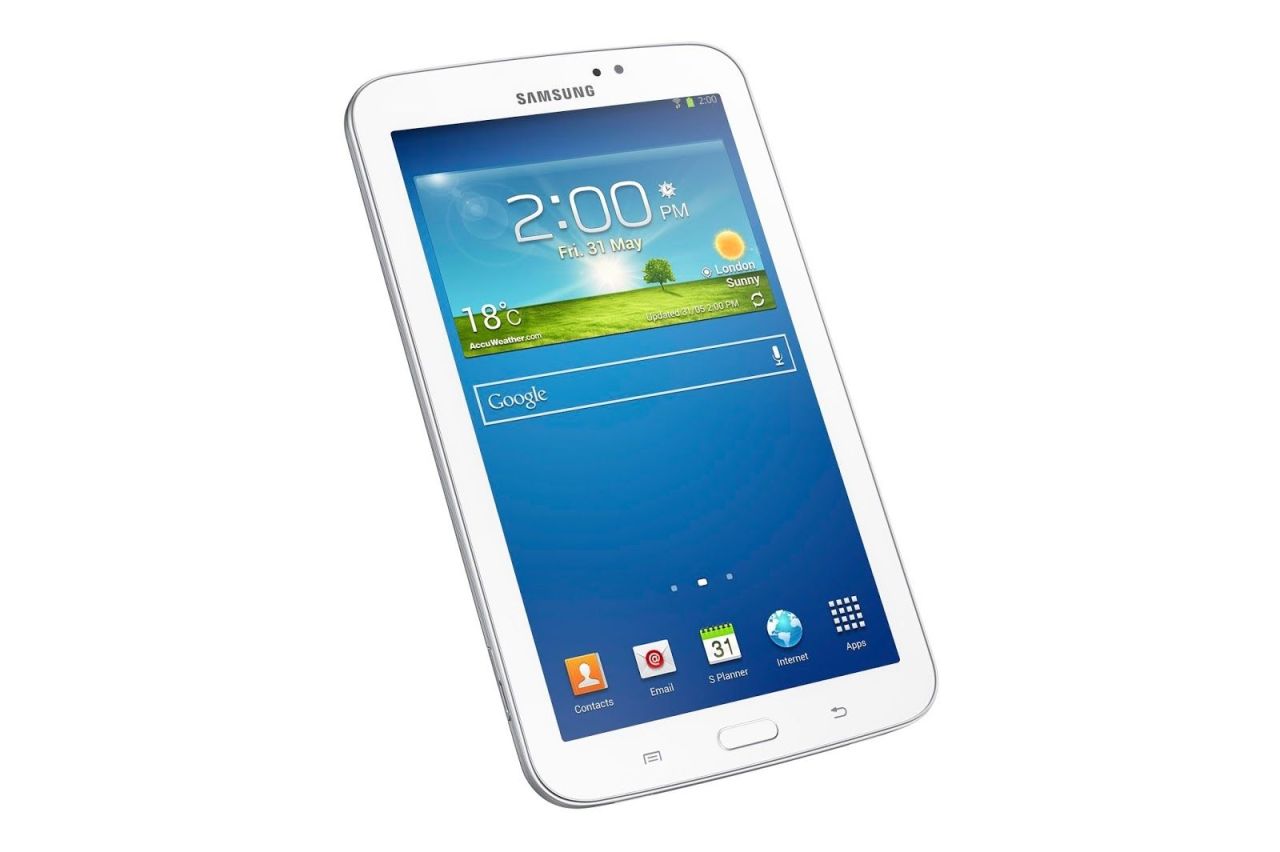 Samsung has announced that the smallest of its Galaxy Tab variants, the Galaxy Tab 7.0, will officially be available to purchase on Sprint starting October 11, for a special introductory price of $49 on any of the operators two-year contracts. At launch, the Galaxy Tab 3 will only be available in White, although a Midnight Black version will be here in time for the holidays.
The Galaxy Tab 7.0 is a respectable mid-range portable Android tablet, packing a 7-inch TFT capacitive touchscreen with a resolution of 600 x 1024, a 1.2GHz dual-core processor, 1GB of RAM, 8GB/16GB of internal storage (expandable up to 64GB via microSD), 4G LTE capability, a 3.15-megapixel rear-facing camera and an impressive 4,000 mAh non-removable Li-Ion battery.
The device will ship running Android 4.2.2. Jelly Bean, skinned with the latest version of Samsung's TouchWiz UI.
The Tab 7.0 will go on sale this Friday, and will be available in to purchase through any of Sprint's bricks-and-mortar stores, together with its official website and telesales satellite channels.
The full press release can be read below:
OVERLAND PARK, Kan. – Oct. 7, 2013 – A small device can offer big-time productivity for a business and fun for the whole family. So today, Sprint announced Samsung Galaxy Tab® 3 7.0 will be available on Friday, Oct. 11, with a special introductory price of $49.99 (excluding taxes) with a new line or eligible upgrade and two-year service agreement. Customers will be able to purchase this versatile new tablet in all Sprint sales channels, including Sprint Stores, Sprint Business Sales, Web Sales and Telesales at 1-800-SPRINT1. Initially, Galaxy Tab 3 will be available in White, but a Midnight Black version will also be available for the holidays.

The 7-inch Galaxy Tab 3 features Android™ 4.2, Jelly Bean, Sprint 4G LTE, where available, a 3-megapixel rear-facing camera with video capture and 1.3-megapixel front-facing camera for video chat. Sprint customers can add a data plan for Galaxy Tab 3 7.0 to their account for as little as $5 per month (excluding taxes and surcharges). Customers can also take advantage of Sprint One UpSM, a new upgrade program that gives customers the ability to upgrade their smartphone every 12 months.

"You can't go wrong with the incredible special offer we developed for Samsung Galaxy Tab 3 7.0 that allows customers to purchase one of the best tablets available at the easily affordable price of $49.99 and add it to their account starting at only $5 per month," said David Owens, vice president-Product Development, Sprint. "With a bright and colorful display and access to the Sprint 4G LTE network, Samsung Galaxy Tab 3 7.0 rounds out Sprint's robust device portfolio to ensure that we offer a tablet or smartphone that will meet anyone's needs. Business users will appreciate the big-time productivity features of this easily portable tablet, while consumers will appreciate its portability and versatility for communicating with friends and family, entertainment and gaming."

Simple and Convenient

Buying a tablet for the first time? Galaxy Tab 3 makes it easy for a first-time tablet owner or experienced user.

Galaxy Tab 3 has a similar look and feel to Galaxy smartphones, so users find it intuitive to use.

Connect to loved ones from afar using the clear 1.3-megapixel front-facing camera on Galaxy Tab 3 for video chat in Google Talk, Skype and more.

Samsung Hub™ makes it easy to buy music, books, movies and games with a full library of content powered by some of the biggest names in entertainment on Galaxy Tab 3. The apps can also be accessed freely on any Galaxy device.

Enjoy access to more than a million apps from Google Play™. Already own apps on a Galaxy smartphone? Then easily access all those already purchased apps or download more on Galaxy Tab 3.

Enjoy Some Downtime

Managing a household and relaxing at home have never been easier. Galaxy Tab 3 includes a variety of features that make it easy to relax and enjoy some free time.

Samsung WatchON™ is the ultimate TV and movie app – recommending programming based on personal tastes. Built with the same IR blaster as a standard TV remote, Galaxy Tab 3 can be used as a universal remote control for almost any TV or DVR, so users can change the channel directly from the tablet. When paired with a Samsung Smart TV, users can enjoy a seamless experience between Galaxy Tab 3 and TV – start a movie on the TV and continue watching it on Galaxy Tab 3.

Galaxy Tab 3 offers a brilliant display, making it a favorite device for game lovers.

Small enough to take anywhere1 and large enough to easily read, Galaxy Tab 3 makes it easy to relax with a good book or magazine with access to some of the top bookstore apps.

Get Work Done

Galaxy Tab 3 is incredibly portable, making it easy for the mobile workforce to get work done when away from the office or meeting with customers.

Polaris® Office is preloaded, allowing users to edit Microsoft Word, Excel and PowerPoint files from anywhere.

Group Play™ lets users share a game, photo album or presentation in real time with multiple friends on select Samsung devices using Wi-Fi®.

Samsung for Enterprise (SAFE™) ensures that businesses have the security and control they require to protect the company.

Quickly and easily access corporate email, meeting details, contact information and other critical information.

Securely store sensitive proprietary documents, presentations and other corporate data on a mobile device.

Wirelessly and securely access data from a corporate network while travelling or working in the field.

Employees using their personal smartphones in a company's Bring Your Own Device (BYOD) program remain mobile, secure and compliant with remote management of applications and device features that meet company-specific security requirements.

3G/4G LTE mobile hotspot capability supporting up to 10 Wi-Fi enabled devices simultaneously.